Central Vacuum Systems HQ
Raleigh, NC

•

Call

(919) 878-8530

Raleigh Central Vacuum Sales & Service • Vacuums • Attachments • Installation supplies

Your Central Vacuum Headquarters at Capital Vacuum Floor-Care World... Serving the Triangle for 60 years!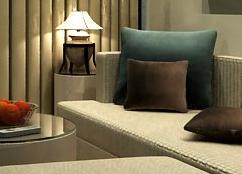 For A Beautifully Clean Home...Install a Central Vacuum System...New or Existing Homes!
A Central Vacuum is EASY!
A central vacuum is the easiest possible way to vacuum your home. Just plug the lightweight hose into a conveniently placed wall or floor inlet, the vacuum starts automatically, you're ready to clean! it's that easy. There's no heavy machine to lug or pull. Cleaning is almost effortless! You'll breeze through cleaning of carpets, floors, furniture, walls, stairs and upholstery. You can also clean the basement, the workshop, the garage, even the car!
A Central Vacuum is CONVENIENT!
Central vacuum inlets are strategically placed throughout your home for maximum efficiency and convenience. One wall or floor inlet, in conjunction with the 30' hose, will normally serve several rooms.
A Central Vacuum is POWERFUL!
With a central vacuum system, you'll have more power than a conventional vacuum cleaner, up to twice as much as a typical upright or canister! Great for cleaning every surface of your home - even picks up stubborn pet hair! And, we have a large selection of models and sizes to fit virtually any size home - single-level or multi-level structures. Whether your home is 1,200 or up to 20,000 square feet, we have a system to suit your cleaning needs.
A Central Vacuum is HEALTHY!
Since the central vacuum unit is located outside of your living environment (typically in a garage, basement, utility room or crawl space), you will enjoy two great benefits 1) There is absolutely no recirculation of dust or allergens within your home - great for anyone who suffers from allergies or for anyone who wants the cleanest home possible; and 2) vacuuming is super-quiet, so you can hear the telephone or doorbell if it rings, or even listen to music while you clean.
A Central Vacuum is AFFORDABLE!
Many people think to get a good central vacuum system it will cost several thousand dollars. But in reality to have a complete system professionally installed in your home, it will cost less than you think. And, if you're handy with tools and have some spare time, you can save even more by installing-it-yourself. We offer complete installation packages for the do-it-yourselfer, which include all the necessary installation materials, plus an illustrated instruction manual.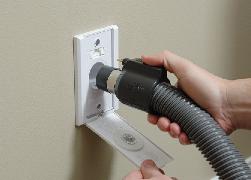 A Central Vacuum is A GREAT WAY to CLEAN YOUR HOME!
Click or tap on a link to learn more...
Call or visit our stores in Raleigh or Cary to find out more!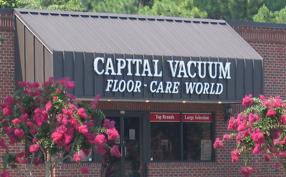 Raleigh Store:
Capital Vacuum
Floor-Care World
1666 North Market Dr.
Raleigh, NC 27609
CAPITAL VACUUM has the largest selection of vacuums and cleaning products in Raleigh, Cary, Durham, Chapel Hill and anywhere in the Triangle including...
Central Vacuum Systems, Attachment Sets, Installation Supplies, Hoses, Power Nozzles, Parts and Repair!
Cary Store:
Capital Vacuum
Floor-Care World
209 E. Chatham St.
Cary, NC 27511
The eas
iest
way to vacuum your home is just a phone call away... (919) 878-8530
Some people refer to Central Vacuum Systems as Central Vacuums, Built-in Vacuums, Built-in Vacuum Systems, Whole House Vacuums, Whole House Vacuum Systems or Central Cleaning Systems. However they are phrased though, a Central Vacuum is a great way to clean your home for all the benefits listed above. For the best Central Vacuums in Raleigh and the best Central Vacuums in Cary - call us or visit our store locations: Capital Vacuum Floor-Care World in Raleigh (919) 878-8530 or Capital Vacuum Floor-Care World in Cary (919) 467-2834 your High Quality Central Vacuum System Headquarters!